---
BOSTON, July 11, 2023 /PRNewswire/ -- Beacon Biosignals, the leading computational neurodiagnostics and electroencephalogram (EEG) analytics company, is pleased to announce that it has completed the acquisition of the research and development business of Dreem, a Paris-based pioneer in at-home sleep monitoring. This strategic acquisition signifies a remarkable milestone, setting the stage for clinical trial assessments at scale via the integration of Dreem's hardware with Beacon's next-generation EEG analytics platform.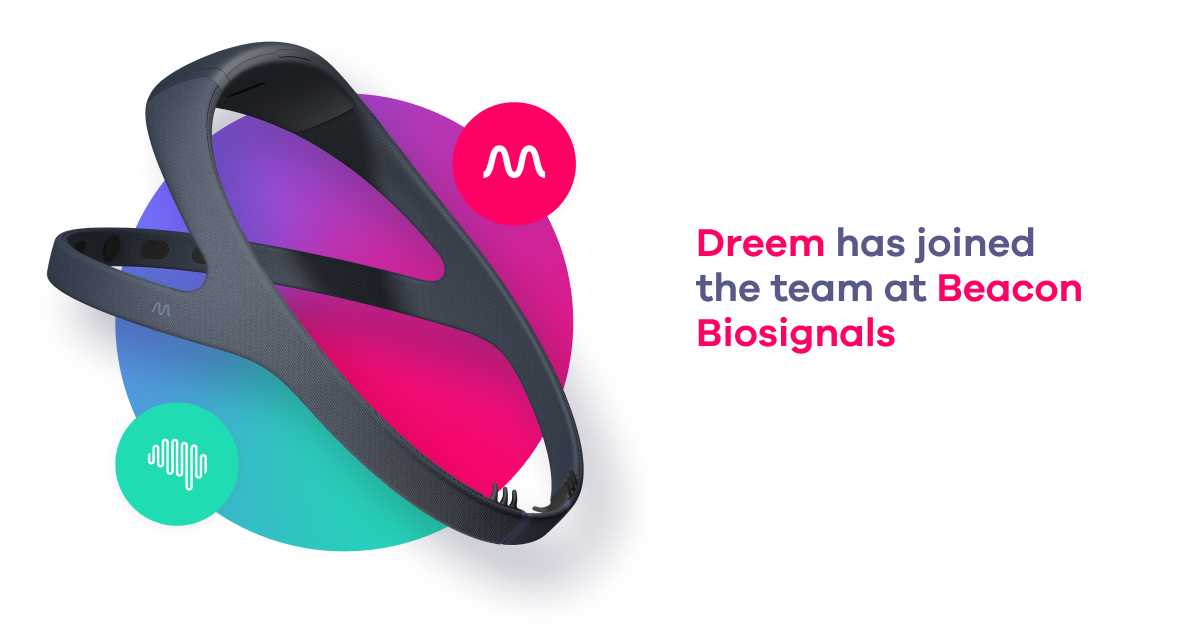 Dreem, a market leader in developing sleep monitoring devices, is poised to markedly enhance Beacon's capabilities in data acquisition and clinical trial operations, creating substantial value for Beacon's biopharma partners. Founded in 2014 and backed by over $57 Million in funding, Dreem built a robust intellectual property portfolio and a sophisticated regulatory strategy around its innovative sleep monitoring technologies that have been used to record over two million nights of sleep. As part of this acquisition, Beacon Biosignals secured an undisclosed financing round with participation from its syndicate of Series A investors, led by General Catalyst.
Dreem's most advanced headset, Dreem 3, is a patient-centric sleep headband that has been deployed in numerous biopharma-sponsored clinical studies and has been clinically validated against standard polysomnography (Arnal et al., Sleep 2020). The lightweight, low-profile Dreem 3 device is engineered to optimize EEG signal quality, patient comfort and operational efficiency. The integration of Dreem's state-of-the-art wearables with Beacon's analytics platform creates a powerful synergy. This combination unlocks the potential for breakthrough AI-driven EEG analytics, polysomnogram endpoint assessments, and clinical-grade at-home sleep monitoring that can greatly accelerate the development of precision medicines.
From its founding in 2019, Beacon Biosignals has engineered a machine learning platform designed to interrogate large EEG datasets at unprecedented speed and scale. Sleep physiology has emerged as a critical use case for quantitative EEG-based biomarkers to accelerate drug development in sleep medicine, psychiatric disorders and neurologic disease. In addition to serving as accepted endpoints for primary hypersomnia and insomnia disorders, quantitative sleep metrics are emerging as a secondary or in some cases primary endpoints for psychiatric conditions with disordered sleep physiology, such as major depressive disorder. Disordered sleep physiology is also increasingly recognized for its potential causal role in neurodegenerative disorders. In addition to its role as a formal endpoint, disordered sleep symptoms are highly linked to patient quality of life and patient-reported outcomes.
Direct assessment of neuronal activity with EEG is the clinical gold standard, significantly outperforming surrogate assessments such as actigraphy. Beacon's platform excels in sleep EEG analytics, providing macroarchitecture assessments via automated sleep scoring and intricate microarchitecture analysis of features like arousals and spindles— delivering deep insights into sleep quality. At-home, longitudinal monitoring is positioned to progress the underlying science of sleep physiology beyond what is possible with limited assessments in an unnatural sleep lab setting.
"We are excited to announce the acquisition of Dreem, which marks a significant step forward in our mission to rapidly advance precision medicines for the brain," said Jacob Donoghue MD PhD, CEO of Beacon Biosignals. "It has always been our vision to expand clinical-grade brain monitoring to usher in the era of precision therapies in sleep medicine and the most difficult-to-treat neuropsychiatric conditions. There's no substitute for recording directly from the brain, and the Dreem device will accelerate Beacon's scale-up of validated sleep endpoints across a wide range of clinical trials."
Prominent sleep expert and Beacon Biosignals Scientific Advisory Board member, Dr. Andrew Krystal, MD, added, "Sleep plays a crucial role in neuropsychiatric diseases, and monitoring it in realistic, at-home settings is essential for understanding the full impact on patients." Pierrick Arnal PhD, Dreem's Chief Science Officer reflected on the acquisition, "We are excited to join Beacon Biosignals and propel the Dreem device into a new era of impact, unlocking the potential for revolutionary advancements in clinical trials and treatments for disorders like narcolepsy, Alzheimer's disease, schizophrenia and beyond."
About Beacon Biosignals
Beacon's machine learning platform for EEG enables and accelerates new treatments that transform the lives of patients with neurological, psychiatric or sleep disorders. Through novel machine learning algorithms, EEG wearables, large Clinico-EEG RWE datasets, and advances in cloud-based scientific computing, Beacon Biosignals is changing the way patients are treated for disorders of the brain. For more information, visit https://beacon.bio/. To work together, visit https://beacon.bio/contact. Follow us on Twitter (@Biosignals) or LinkedIn (https://www.linkedin.com/company/beacon-biosignals).
Contact
Dan Florey\ info@beacon.bio